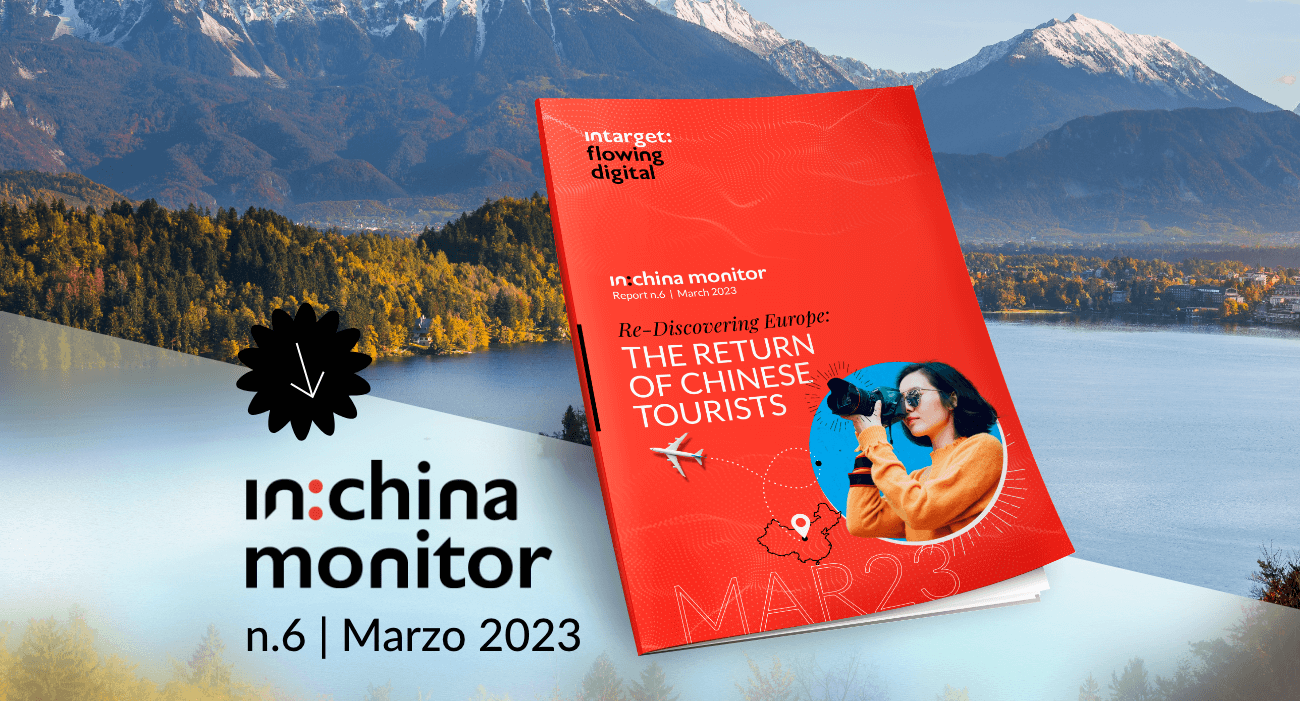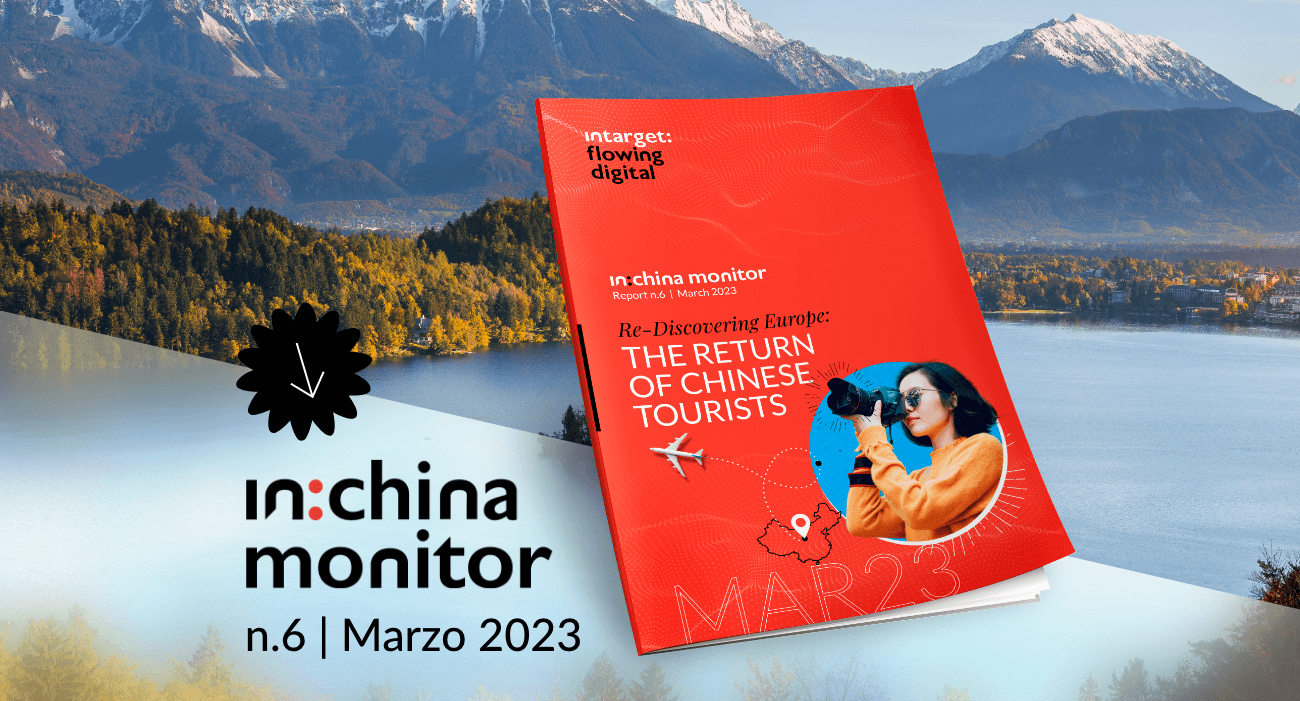 IN:CHINA MONITOR 6: RE-DISCOVERING EUROPE
The sixth In:China Monitor, an Intarget analysis of the most relevant trends in the Chinese market, is now out. Scenarios and opportunities for Western brands in the Land of the Dragon.
Re-Discovering Europe: The return of Chinese Tourists
From mid-January 2023, Chinese international travel has returned to 62% of pre-pandemic levels, with approximately 250,000 Chinese people traveling per day. A significant increase in air traffic to foreign countries is anticipated (+110 thousand flights in 2023), and approximately 180 million outbound trips from mainland China to other countries are expected in 2024.
It's a report entirely devoted to tourism which includes background information and reasons behind this resumed interest in international travel, along with current sentiments and expectations of Chinese travelers, data and examples of strategies from top-performing tourism boards, analysis and research for familiarizing tourism boards and travel promotion companies with the new Chinese traveler, preparing them to meet their expectations and, finally, giving them the ability to offer innovate types of tourism.
Pisa, March 1, 2023 – In the spirit of sharing the results of research conducted by the Italian-Chinese team of Intarget China with organizations and heads of companies interested in the Chinese market, Intarget releases its latest In:China Monitor, an in-depth analysis which includes data, examples and testimonials for riding this wave of renewed interest in tourism. The sixth report entitled, "Rediscovering Europe: The return of Chinese Tourists" is, in fact, entirely devoted to tourism, and with data from the country, is based on an Intarget survey among high-spending Chinese travelers to understand their expectations and behaviors, along with testimonials and examples for getting to know the new Chinese travelers in order to meet their expectations and, finally, to have the ability to offer innovative types of tourism.
"2023, after a years-long ban on international travel, began with the notion of reopening overseas travel for Chinese citizens. As of mid-January 2023, Chinese international travel, mostly to Southeast Asia, has returned to 62 percent of pre-pandemic levels with approximately 250,000 Chinese travelers per day, equalling 7.5 million travelers per month. Again, according to the National Immigration Administration, the number of Chinese people traveling abroad has increased by 117.8 percent," says Stefano Generali, Managing Director of Intarget China. "Through data collected from a number of authoritative sources in the industry, an increase of 110,000 air trips from China to other countries is estimated for 2023, and by 2024, the number of trips outside the borders of Mainland China is expected to be 180 million. Considering the significant impact that Chinese tourism has had in the years leading up to Covid-19, this reopening represents an incredible opportunity for tourism-driven countries who have experienced unprecedented tourism restrictions in the past three years. With the sixth In:China monitor, we wanted to investigate the Chinese tourism of today, including emerging trends, new habits of Chinese travelers, new expectations of high-spending tourists and actions and projects put in place by some of the main tourism agencies in European countries."
The report, downloadable from the following link, aims to answer many questions. To understand whether we can actually talk about a return of the Chinese tourist, economic data will be analyzed, including an analysis of the Chinese New Year holiday on domestic tourism as well as a forecast of what to expect in 2023, a year in which China is poised to be the world's top demographic in terms of leading the recovery of international tourism. Beginning in March, restrictions will be lifted for travelers from China, and here'll be no shortage of dates within the European Union which may be of interest to Chinese tourists.
To understand how habits have changed during the past three years of closure, we can look to the results of an Intarget survey based on Global Web Index data and focused on the sentiments of high-spending tourists (between the ages 27 and 58) who say they travel internationally two times every six months. Positive thinking prevails. For 70 percent, there is a belief that in the next six months the economy, environmental concerns and personal finances will improve. Leading the types of vacations preferred by wealthy Chinese travelers are resorts (66.2 percent), spas (52.6 percent) and theme parks (51.4 percent).
We have devoted a section to various experts in China representing their countries, where we share insights from leaders, including Franka Gulin – Director of the Croatian National Tourism Board, Catherine Oden – China Director of Atout France – France Tourism Development Agency, Daniela Chiani – Director Greater China for Switzerland Tourism and Cristiano Varotti China Country Manager of ENIT – Italian National Tourism Board to understand how the offerings have changed and which strategies their respective countries are adopting to capture the expected increased levels of tourism. Emerging is a focus on sustainability, a focus on nature and the outdoors, slow tourism and sports." says Anna Pupi, an analyst and expert on China at Intarget Shanghai. "We had to devote a chapter to technology because for the Chinese tourist, travel begins with their phone. They draw inspiration from KOLs (Key Opinion Leaders), look for ideas on Douyin and XiaoHongShu, and then arrange their trips on WeChat and Online Booking Apps like Ctrip. The recovery has taken place, and it's important to figure out how to intercept unexpressed demand. To do so, digital is paramount. We also decided to dedicate space to a list of virtuous European case studies in order to understand what has already been successful in the Land of the Dragon and to stimulate the creativity of Italian organizations and companies."
Finally, the report seeks to offer a blueprint for responding to changes in Chinese tourism, without necessarily believing that the trends identified by early evidence on both domestic and Southeast Asian tourism will also occur in the West, but with the understanding that the pandemic has invoked new sensitivities that must be taken into account in a territory's promotional strategy.
The sixth In:China monitor entitled, "Re-Discovering Europe: The return of Chinese Tourists"  is available through the following link.